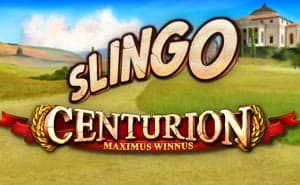 Slingo Centurion
About Slingo Centurion
Maximus Winnius makes his return to Slot Boss slots in the form of the Slingo Centurion. The original Centurion slot was incredibly popular upon its release and has managed to sustain that popularity to this day. If it was the original Centurion slot that brought you to this game, then you might not be fully aware of how Slingo works. Slingo is a mix between two popular casino games; slots and bingo. Players will be provided with a 5x5 bingo card and a reel underneath that contains all of the numbers in the game. Once the numbers appear on the reels, they will be automatically ticked off your card. The aspect that makes Slingo Centurion one of our top Slingo games is the bonus rounds that are available here. Here are all the bonuses in Slingo Centurion and how you can unlock them:
One to Four - Nothing: If players land four or less lines in Slingo Centurion they will not enter any of the game's bonus rounds.
Five - Reelus Maximus: Landing five lines will activate the Reelus Maximus Bonus. In this feature a colossal symbol will appear on the reel and provide players with big wins depending on the symbols that land next to it.
Six - Prizes on Parade: Landing six lines on your card activates the Prizes on Parade bonus which shows three soldiers with multipliers on their shields. Keep spinning until players land on the collect segment.
Seven - Caesar's Free Spins: Landing seven lines on your card will activate Caesar's Free Spins which spins two wheels, one provides players with a set number of free spins and the other provides players with multipliers for the spins.
Eight - Road to Rome: Land eight lines to activate the Road to Rome bonus. Roll the dice and progress through the trail bonus feature to earn the biggest wins available on this game.
Nine - Caesar's Red Spins: Landing nine lines on your card will activate Caesar's Free Spins which spins two wheels like the original feature but contains double the multipliers and double the potential free spins.
Ten - Road to Rome Red: Land ten lines to activate the Red Road to Rome bonus, roll the dice and progress through the trail bonus feature where all prizes are boosted.
Full House - Wild Power Reels: Land twelve lines on the reels and receive 3 Power Spins where a reel of power wilds will be added on every spin, which will lead to reels 2, 3 and 4 eventually being full of wild symbols.
How to Play Slingo Rainbow Riches
How to set your stake
In the bottom-left section of the screen, you will see the - and + buttons, which are how players can set their initial stake. At the end of the game, players may get the choice of increasing their stake in order to receive an extra spin.
How to spin
After setting your initial stake, you can click on the start game button, to begin with your spins. Any numbers that land on the reel and match with your card will be automatically ticked off your card. Land a green or white joker symbol to tick off a number of your choice. The green joker will allow players to tick off a number in that column while the white joker allows players to tick off any number on the card. Landing the casino free spins symbol provides players with additional spins at the end of the round.
The Boss Believes: Slingo Centurion review
Slingo Centurion is one of our top casino games thanks to the popular theme, variation of slot and perhaps most importantly the range of bonus features available. Slingo Originals have created a fantastic game here and we'll be surprised if Slingo Centurion doesn't match or even surpass the popular Slingo Deal or No Deal or Slingo Rainbow Riches.