Unfortunately, we are not available in your area!
You are visiting a version of our website that is outside of your region.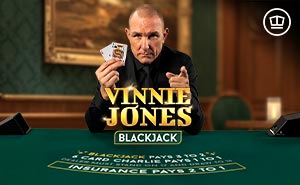 Vinnie Jones Blackjack
About Vinnie Jones Blackjack
It's time to head to the table and take your seat at a blackjack table with a twist as you play Vinnie Jones Blackjack. Hosted by the well-known football hardman, this variant of blackjack can offer players the chance to unlock bigger potential wins with the bonus features, including 6 Card Charlie.
Vinnie Jones Blackjack Information
Game Provider: Real Dealer
Game Theme: Blackjack
Volatility: Low
Main Bonus Round: 6 Card Charlie
How to Play Vinnie Jones Blackjack
Set Your Stake
Before placing a bet in Vinnie Jones Blackjack, players will need to set their stake. This can be a minimum of bet of £1 up to a max bet of £1000. The default bet option within this game is £5.
How to Play a Hand in Vinnie Jones Blackjack
Before a hand is dealt, players will have the chance to place their bets. After betting is complete, the cards will be dealt, and if players have placed a 21+3 bet and it has won, they will be informed by Vinnie. Following the deal of all the cards, the players will then have the chance to hit or stick, and if they can form a hand that is exactly 21 or closer to 21 than the dealers, they will win.
Vinnie Jones Blackjack Bonus Features
6 Card Charlie
The only bonus on offer within this blackjack game is 6 Card Charlie. This bonus will payout if players are able to make a winning hand with six cards and not go above 21.
Vinnie Jones Blackjack: Review
If you're looking for a blackjack game with a twist, then this is the game for you. Hosted by the famous footballer Vinnie Jones, who will be on hand to guide players through the game, this blackjack variant also features traditional side bets, including 21+3 and in-game bets such as double down and insurance, so you'll be right at home if you're familiar with rules. So why not play today and see if you can beat Vinnie Jones?
Vinnie Jones Blackjack FAQs
What games are similar to Vinnie Jones Blackjack?