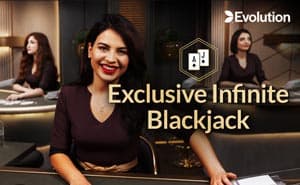 Exclusive Infinite Blackjack
Exclusive Infinite Blackjack Overview
Step into our very-own Exclusive Infinite Blackjack, which takes Evolution's ever-popular Infinite Blackjack concept and makes it exclusively available to our players - so this is a one-of-a-kind live casino experience that we're incredibly proud of.
Exclusive Infinite Blackjack Facts
Game Developer: Evolution Gaming
Genre/Theme: Live Blackjack
Game Features: Double Down, Hit, Stand, Split, Six Card Charlie, Any Pair, 21+3, Hot 3, Bust It
How to Play Exclusive Infinite Blackjack
Stakes & Bets
If you're ready to start playing after leafing through the game's paytable, you can select your stake of choice with low betting options to suit a wide range of players and those new to the game. Also available are side bets, as outlined below.
Any Pair Side Bet
Bet on the likelihood of your first two cards being a pair. We have included the prospective payouts of each outcome below:
Suited Pair: 25 to 1
Any Pair: 8 to 1
21+3 Side Bet
Bet on the likelihood of your first two cards forming a specific combination. Read below to see the payouts for each possible combination in this side bet:
Suited Trips: 100 to 1
Straight Flush: 40 to 1
Three of a Kind: 30 to 1
Straight: 10 to 1
Flush: 5 to 1
Hot 3 Side Bet
Bet on the combined value of your first two cards + the dealer's upcard. Read on to see how these outcomes may pay out:
7-7-7: 100 to 1
21 (Suited): 20 to 1
21 (Unsuited): 4 to 1
20: 2 to 1
19: 1 to 1
Bust It Side Bet
Bet on the possibility of the dealer going bust by going over a hand value of 21. Outcomes and payouts are shown below:
Dealer busts with 8+ cards: 250 to 1
Dealer busts with 7 cards: 100 to 1
Dealer busts with 6 cards: 50 to 1
Dealer busts with 5 cards: 9 to 1
Dealer busts with 4 cards: 2 to 1
Dealer busts with 3 cards: 1 to 1
Exclusive Infinite Blackjack: Review
Exclusive Infinite Blackjack offers, as the title suggests, an exclusive place to play one of the most impressive live Blackjack games on the market. Alongside your typical live casino game features such as real-time decision-making and real dealer interactions, you can also enjoy the ability to review other players' choices within the game alongside other gameplay statistics.