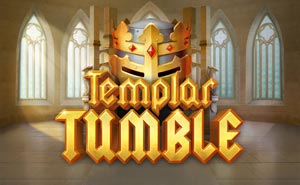 Templar Tumble
About Templar Tumble
Templar Tumble combines fantastic graphics and a medieval-themed design, sporting great images of this fantastic period, such as a mighty gryphon and brave knight, to create a great aesthetic. The warm and relaxing feel to the design and music of the game brings to life the medieval aspect of this slot.
The Templar Tumble slot also includes a Mystery Symbol feature and bonus Free Spins that can be activated.
How to Play Templar Tumble
The Templar Tumble slot is pretty easy to understand and is available to play online via Slot Boss.
Set Your Stake
Setting your stake will be one of the first actions you do when playing Templar Tumble. You can set your stake between 0.10 to 50 coins per spin in your game. You're able to set this stake by using the arrows that can be found on the bet tab at the bottom left-hand side of the slot.
Templar Tumble Bonus Features
Templar Tumble has some fantastic bonus features to look out for when playing this fantastic slot, including 6 Free Spins that can be triggered within the game.
Wild Symbols and Mystery Symbols Feature
There are wild symbols that'll land on your reels occasionally, and when this happens, you'll notice a few of the regular symbols will change into mystery symbols. This isn't until no cascades occur that you'll see the mystery symbols being revealed so that you can collect some during your spins. When you see the mystery symbol, one of two outcomes can occur if it turns into a symbol that matches paying symbols or money prizes.
Free Spins Feature
As with all slots, you'll find Templar Tumble has a great free spins feature that can be triggered when you're able to eliminate all the blockers from the reels. When the free spins are triggered, not much will change in the base game except the removal of blockers for these spins.
Templar Tumble: Review
Templar Tumble is provided by Relax Gaming, which is known for its amazing slots, along with a great new take on mystery symbols and how they come into play with the potential to change into cash prizes.
The slot has excellent graphics and sounds to go with the theme, as well as tonnes of unique and classic symbols included within the slot. Templar Tumble is also mobile compatible and is optimised to fit any screen from your mobile device to your tablet, so you can play this slot wherever you are.