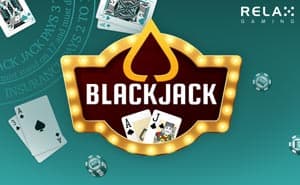 Relax - Blackjack
About Blackjack
In reality, nobody knows exactly how the game of Blackjack was created. However, researchers believe that the game originated in French casinos back in the 18th century. Originally called Vingt-et-un (which translates to twenty-one), this game was supposedly created for the Kings of France, specifically that of King Louis XV. There is also a theory that it was created by the Romans who played with wooden blocks and Roman numerals but this is unconfirmed. What is confirmed, is that Relax Gaming have released a fantastic table game rendition of one of the most popular casino games of all time. They released both their version of Blackjack and Roulette at the same time, so if you haven't yet tried out their version of Roulette, why not give it a try if you're a fan of traditional casino games?
How to Play Blackjack
For an in-depth guide on How to play Blackjack be sure to check out our blog where you can find information on when to split, double down and stand alongside the probabilities of each hand. In this game page, you can find the basic rules of Blackjack and a brief description of how to play the game.
Chip Colours
Now, in our time at casinos, we've seen some pretty unique things. However, we've also seen a fair few players who are still unaware of what price is on certain chips. Here are the traditional chip colours and values for players to check out,
£1 - White & Blue Chip
£5 - Red & White Chip
£25 - Green & White Chip
£100 - Black and White Chip
£500 - Blue and White Chip
£1000 - Yellow and White Chip
Now, most people will only put down one of the first three and if you're looking to play for the long haul, that is definitely something we recommend. Before you play, ask yourself how you would bet these three totals: £32, £68 and £89, if you can figure them out, then you should be okay in setting your stakes.
Seven basics of Blackjack
Multiple 52 Card packs are used and placed into a singular shoe. You will find that six decks are used in most land casinos.
If you see a blank plastic card, it means that the dealer needs to reshuffle the deck.
The aim of the game is to get closer to the value of 21 than the dealer, without exceeding 21.
All cards are worth the value on the card, except the ace which can be either a 1 or an 11.
Dealers will place one card up and one card down when they deal their own cards, their second card will only be revealed when players have stood.
A soft hand is any hand that holds an ace as an 11, as it means that the player can receive any card and still be in the game.
Pairs can be split and another card will be drawn alongside them. This doubles the player's bet and both cards act as a separate bet. So if players have two jacks they could split those jacks and end up winning or losing two hands depending on how the cards play out.
How to Play Blackjack table game
How to set your stake
Players will have three sections in which they can click to add their bet. Using the chips on the bottom right of the screen players can simply click and place their bets on each section. If you're unhappy about your stake, there is also an undo button.
How to bet
Players can click the bet button after they have set their stakes to play. If players use all three sections, they will be given three sets of two cards and will be able to see the dealer's up card. Choose whether to stand (don't draw a card), hit (draw a card) or double (take another card and double your bet). Once you've chosen your options, the dealer will take their turn and the game will play out.
The Boss Believes: Blackjack Relax slot review
Blackjack is the boss's favourite game, that much is a fact, which means that the bar was set very high before we had even played this table game. However, Relax Gaming have released one of the best renditions of Blackjack that we have ever seen, the gameplay is incredibly smooth, there are in-game tips available for beginners and you can play with up to three hands at once which is an absolutely fantastic feature in our opinion. For anyone who was having second thoughts about Live Blackjack as they weren't 100% certain about the game, this rendition of Blackjack is in our opinion a perfect addition to our site for those players.