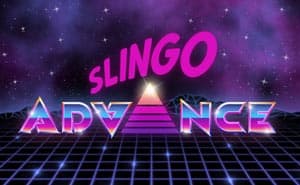 Slingo Advance
Slingo Advance takes players to a world resembling that of an arcade with some brilliant retro graphics that are rarely found in modern-day online slots. However, Slingo games are not the typical brand of slot games, they perfectly mix the best aspects of slots and bingo to create incredible games and Slingo Advance takes Slingo to another level.
About Slingo Advance
There are plenty of ways to win on this game, as each match on your reel comes with a win value. The ultimate goal is to reach the top of the board, where the prizes are sweeter. Whether or not you are familiar with the classic bingo, learning how to play Slingo Advance will not take much time, for once you know the basics, the rest will be a breeze.
Slingo Originals created Slingo Advanced, a retro computer game that combines elements of outer space with the multiverse to produce this version of bingo. It has a purple background with neon blue navigation buttons dotted around the screen.
The game's grid has five rows and five reels, with 12 paylines that go from left to right. The game has a progressive feature -- one matching set of numbers opens up the second level, and two matches open up the third, continuing till the last level.
After every game, you are rewarded with re-spins. Each game comes with eight spins to try and reach the top.
Slingo Advance does not come with a bonus game, but it is packed with a lot of bonus features that allow you to continue winning as you climb up the levels. Getting to the next level also means larger payouts.
The maximum payout available is 10,000 times your stake.
How to Play Slingo Advance
The game's concept is simple and easy to learn. Before you start, the game displays the rules and has interactive pop-up messages throughout the game.
There are five levels you need to climb. Matching the different numbers moves you one step closer to spelling "Slingo" and winning the total sum of that row.
Set Your Stake
You can set your bet from a minimum of $0.02 to a maximum of $25.
The game shows you how much you bet for each spin as you climb up the levels. Your stake will increase in relation to the payout of each tier. Each match (Star) has a different payout value per level, and every Slingo achieved per level has a different payout.
Level Star payout Slingo payout 1 0.1x 1x 2 0.2x 2x 3 0.5x 5x 4 1x 10x 5 5x 50x
How to Spin the Reels
Once you set your stake, click on the spin button and watch matches. After every spin, you have the option to collect your winnings or just keep clicking the red "Spin" button.
The "Spin" button will show you what amount your next spin will cost. You can set your bet limits by clicking on the "play controls" option, and you can select from the maximum single game loss to the maximum single game stake.
Slingo Advance Bonus Features
The game has a wild symbol in the form of a Joker. Landing the Joker lets you select any card from the same column to try to get a match. You can use it to build up your Slingo in that row or add it to the next row for level advancement.
There is an advancement symbol and free spins symbol in the game. The advancement symbol will boost you to the next level, and only appears on the centre reel. Payouts
Slingo Advance has no bonus round, but does come with bonus jackpots. There are five jackpots for getting different Slingo completions, each with a different payout: Full house - 10,000x Letter T - 2,500x Letter X - 1,000x Diagonal - 100x Vertical - 50x
Additional Features
There are extra spins that you can purchase after the second level, and the cost varies from level to level.
A blocker symbol also appears as an "X" and blocks any match from occurring -- this will only appear on the middle reel.