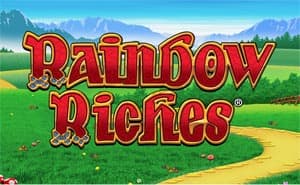 Rainbow Riches
About Rainbow Riches
Rainbow Riches game first appeared across the UK as a classic fruit-style slot machine. Barcrest recognised the game's potential as an online slot; the rest is history.
Now one of the most famous slot machines found in online casinos in the UK and the world, the developers have built on the success of the initial casino slot by producing a host of spin-off games, all of which are available in our collection of video slots.
Rainbow Riches will transport you to the emerald hills of Ireland, where if symbols appear across the reels in the right combination, you will be transported to one of three bonus rounds.
The Irish theme runs strong in this online slot series game, and behind your reels, you'll see an immersive backdrop complete with a rainbow.
Looking for the newest Rainbow Riches games? Look no further than Rainbow Riches Piles of Cash
How to Play Rainbow Riches
If you're looking to spin the Rainbow Riches online slot reels, find out all you need to know below.
Total Bet
Like many casino games, players can set their total bet via a combination of lines and bet/line. These can be found at the bottom of the game window. You can alter how many lines you would like to play with, and there is a maximum of 20 and a minimum of one in cash bet totals. These two buttons will combine to make your total bet.
Spin
The spin button will send the reels into motion if you want to play the world's most famous online slots. This button is found at the lower right of the game window, and every spin will give you the chance to activate one of the three bonus features. If you match a winning combination of symbols, the amount will be added to your balance.
Paylines
This slot contains 20 paylines. Wins on multiple paylines will pay out as one. The total line bet will be divided equally between all active paylines, meaning the total bet is divided by 20 to determine a line. Only active paylines will be able to register wins.
How to win in Rainbow Riches?
Like many games within this online slots series, players will need to match symbols across active paylines to trigger a win. Within this slot game, there are many symbols on offer, with the well and pots of gold acting as bonus triggers. The game does feature wild symbols in the form of a gold coin. However, scatter symbols are not active as the game does not offer a free spins round. Other symbols which offer payouts include live casino card amounts.
Rainbow Riches Slot Game Features
Online slot machines are famed for having a host of bonus games, and this game is no different, so if you want to learn more about the special features before you play Rainbow Riches, take a look below.
Road to Riches The Road to Riches bonus will be triggered if you land three Road to Riches symbols on the reels. When you enter the game, you will be greeted by a long and windy road with a number of payouts and collect symbols on it. Here you can press the spin button to determine how many steps will be taken. The further down the road you travel, the higher the chances of bigger payouts. Watch out for the collect spots, though, as landing on one of these will end the round and award the relative payout.
Wishing Well
If three or more Wishing Well symbols land on the reels of this online slot, you will be transported to the Wishing Well bonus game. Here you will see three different wishing wells that each have a hidden multiplier. Select one well and be awarded the hidden payout within. The best outcome here is a well that can award a huge 500x bet. All winnings will be relative to the stake that entered the bonus by using a multiplier.
Pots of Gold
If you can land three Pots of Gold symbols on the reels, you will be transported to another rainbow riches bonus game. Here you'll see all the different gold pots appear on the reels and begin moving round the screen. After they've stopped, players will select one and then you could win big with a prize of up to 500x your stake.
More Rainbow Riches Slot Games
If you'd like to see some of the other Rainbow Riches games we have, take a look below:
Rainbow Riches Slot Review
Join the leprechauns on the Emerald Isle and search for the hidden gold in this hugely popular Barcrest slot. Rainbow Riches offers Slot Boss players fantastic graphics and great gameplay. New players and experienced veterans alike will find something they can enjoy in this slot, whether it be bountiful bonuses or adjustable win lines. The number of bonus rounds is impressive, and each is unique, ensuring the game remains engaging throughout.
Read More
If you care to read more before you play Rainbow Riches plus an extended game review, please check our Rainbow Riches Slot Review page for more information!
Related Online Slots
If you're looking for more online casino games or slots within our collection, why not take a look at the other Irish slots we have, including:
Rainbow Riches FAQs
Q. Can I trigger a Free Spins bonus on Rainbow Riches?
Free Spins are not triggerable in the original online slot game but are available in Rainbow Riches Free Spins, which can be found above. This slot has a different twist. Activating the bonus will provide players with three potential bonuses, all of which can provide players with massive multipliers.
Q. Which is the best Rainbow Riches game?
In reality, which is the best Rainbow Riches slots is entirely down to the player. If you're sat thinking, 'which Rainbow Riches slot should I play?', then you have to take into consideration which other games you usually prefer. Do you enjoy Free Spins? Or perhaps more unique bonus rounds? If you're looking for the maximum ways to win, then you should look at Rainbow Riches Megaways.
Q. Which Rainbow Riches Slots has the Most Features?
If you're looking for the Rainbow Riches online slot machine with the most bonuses, it may surprise you to find out that the Slingo version of Rainbow Riches has the most bonus features with seven. However, the slot game with the most is Rainbow Riches Pick N'Mix which takes the bonus rounds from multiple Rainbow Riches titles and gives players the chance to play them all in the same game.