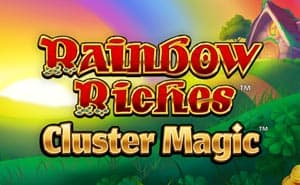 Rainbow Riches Cluster Magic
About Rainbow Riches Cluster Magic
The Rainbow Riches slot series is perhaps the most popular slots franchise in the world today. There are 12 Rainbow Riches online slots on Slot Boss and each has its own unique variation, none more than Rainbow Riches Cluster Magic which begins with a 4x4 reel that can expand as large as 8x8. The aim of the game is to use the 16 symbols on show to begin a succession of cascades to unveil the remaining 48 symbols and unlock the Free Spins bonus round, which requires six consecutive cascades. For every cascade on the reels, the winning cluster will be removed from the reels and eight new positions will open up on the reels allowing players more chances to land winning clusters. However, the biggest surprise in the slot comes with the three additional features that come with the Free Spins bonus round, where any of the following can happen:
- Wilds can be put in place for the entire bonus round with the Persisting Wilds feature.
- Winning clusters can provide an additional spin and contain a multiplier that increases by one on every winning spin (similar to that of our Megaways slots) in the Infinity Spins feature.
- Wilds will rain down onto the reels in one of 22 patterns (patterns can be found in the game information section) in the Wild Rain feature.
Rainbow Riches Cluster Magic FAQs
How does Rainbow Riches Cluster Magic compare to other Rainbow Riches slots?
When a slot has as many sequels as Rainbow Riches, not every game is going to live up to the standards of the original slot. In our opinion, Rainbow Riches Cluster Magic is one of the games that does live up to the lofty standards of one of the most successful online casino games of all time. The reel expansion feature is one that we don't see enough of in our brand new slots and the way it has been incorporated into this Rainbow Riches game is masterful.
Do the smaller reels mean that I have less chances of winning?
The cluster wins feature combined with the 4x4 reels does slightly decrease chances of winning on players' first spins. However, with every winning cascade the chances of players landing bigger wins through the combination of features and even though the initial chance for a win is slightly lower than average, the chances of big wins is significantly improved.
Which of the three Free Spins bonuses are the best?
In our opinion, this would be the Infinity Spins feature, where players can win up to 250 Free Spins. Beginning with 8 and a multiplier of x1 with the reels fully expanded, each win will extend the round and increase the multiplier. The fact that this bonus can go on for up to 250 spins and also contain a massive multiplier, makes this our favourite of the Free Spins bonus rounds.