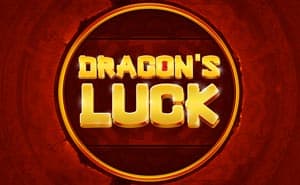 Dragon's Luck
About Dragon's Luck Online Slot Game
The Asian themed Slot Game brings plenty of Fortune and Luck with the mega bonus rounds and a chance to multiply your stake by 1380x!
Think the Luck of the Dragon is on your side? Play alongside them on Dragon's Luck Slot Game to find out.
Buttons
The buttons can be found on the game panel area around the bottom of Dragon's Luck Slot game.
Total Stake: Click the + & - arrows to increase / decrease the total value of your bet for each spin. You can change this at any time using the buttons.
Main Features on Dragon's Luck Online Slot
Dragon's Coin: Spin to reveal secret symbols.
During Dragon's Luck Slot game, random Dragon Coins appear on the reels. When the reels stop, the Dragon's Coins spin to reveal secret identical symbols. But which symbol will they land on?
Dragon's Help: Breathes fire to increase wins!
On Dragon's Luck Slot, two friendly Dragon's sit at either side of the game to observe and lend a helping hand. At random intervals the Dragons will wake up and breathe fire onto the game panel area. This will cause the Dragon's Coins to repeatedly spin for higher value and bigger wins!
Mega Coin: Guaranteed wins.
If the Dragon has blessed you with his luck, a Mega Coin will appear 3x3 onto the reels. This will transform it into multiple Dragon Coins if the Dragon breathes fire onto it, causing big fiery wins!
Mega Fortune: Win 1380x
Dragon's Luck slot game ends with a Mega Fortune round, with the potential of Mega Wins! During this round, the reels are filled with 138 lucky symbols. If the Dragon's Luck is on your side, you can win up to 1380x your stake!
Other online slots we recommend