Unfortunately, we are not available in your area!
You are visiting a version of our website that is outside of your region.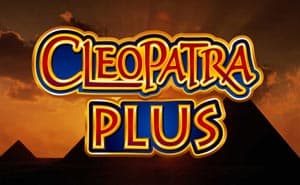 Cleopatra PLUS
About Cleopatra Plus Slot
Cleopatra Plus slot is an IGT addition developed in October 2016. It has 5 reels and 40 paylines and has an ancient Egyptian theme.
The main symbols on the reels are Aset, Bastet, Amun, Ra, Hathor and Anubis. The symbols also include other Egyptian artefacts and the standard playing cards. The highest of the symbols is the Cleopatra Plus logo which is also the wild and rewards any punter a payout of 1500x their original stake.
Visually this game is colourful and vibrant. It has amazing and exciting graphics, and the primary colour is brown, which perfectly fits the Egyptian style. The game also has a whopping ten bonus features with a super spin feature that activates spectacular wins.
How to Play Cleopatra Plus Slot
Starting the game is very simple, and any punter familiar with how slots are played will find this game fairly straightforward. With a wide betting range Cleopatra Plus slot is also a great game whether you are a low stakes player or a high roller.
Set Your Stake
When setting your stake, a prompt on the left, a white arrow on a green background, will open the wager screen. Here, you can either decrease or increase the amount you wish to wager and the number of lines per wager. While you are placing your bet, there will be nice and serene music and some wind moving over the desert sand in the background.
For you to complete a spin of the game, this is what you have to do:
Set your bet with the minimum bet being 1 coin and 1 line and maximum being 100 coins and 40 paylines Select your favourite Egyptian god or goddess Then to spin click on the yellow circle arrow
Cleopatra Plus Slot Bonus Features
Cleopatra Plus has a unique level up feature where the higher you go up in levels, the more rewards you will receive. Here we will look at how the game levels up and the different bonus features per level.
Levelling Up
The first thing to note is that the levelling up process on the game is based on how many followers you can get. On the reels you can see a pharaoh symbol, which signifies one follower. When they appear on the reels they will be added to your total of followers, which can be seen at the top left-hand corner of the game.
There are eight possible levels, and each level is based on the number of followers you accumulate. At each level, you can expect payouts in the form of free spins, multipliers, cash prizes and super spins. Each level unlocks a map and new location, which are important for getting your rewards. Level 1 You will require 0 to 49 followers to activate at this level, which opens up the Bonus Map for Alexandria. Level 2 Level 2 requires 50 to 119 followers to activate and give you access to the Nile River Valley Bonus Map. Level 3 You need to have 120 to 199 followers active at this level, which also gives you an additional scatter on reel 5 and an allowance to place one more follower on the map. Level 4 Level 4 Requires 200 to 349 followers to activate and unlock three new deities, and you pick one stacked on the reels. Level 5 At this level, you are required to have 350 to 599 followers to activate, allowing you to place five more followers on the map and unlock an extra scatter. Level 6 Requires 600 to 899 followers for activation, gives you access to the last spin multiplier on the map and awards a large multiplier on the last spin. Level 7 Requires 900 to 1249 followers for activation and gives you access to the Pyramid of Giza Bonus Map. Level 8 Requires 1250+ followers for activation, gives you access to the feature all players want, which is the Super Spin.
Super Spin
Cleopatra Plus has built-in memory to keep your progress of the game saved. Level 8 activates the Super Spin, which gives you a big win of 1500x your stake, and when the 50x multiplier kicks in, it triggers the 10 Super Spins. That is a considerably bigger win than many other online slots games.
Cleopatra Plus Slot: Review
The main goal is to play and reach level 8 to get the biggest wins. The game is an upgrade from the previous version and will appeal to all types of slot players, due to the game allows any punter to win up to 1500 times of their stake.
Cleopatra Plus - You may also like: