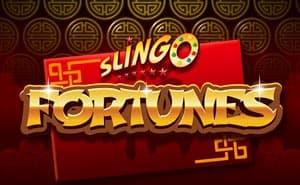 Slingo Fortunes
About Slingo Fortunes
Deal or No Deal is one of the greatest television shows of all time, and it is also one of the best slingo games on Slot Boss. Slingo Fortunes would best be described as an Asian-themed version of the popular game, perhaps think of Deal or No Deal Slingo combined with 88 Fortunes and that is similar to what we have here. Instead of a 5x5 grid of boxes, players will be given envelopes to play with. Each envelope will contain different values and players will need to remove four lines of envelopes to make it through to the cash prize round where the dealer will offer players a prize depending on the totals that are left on the screen.
At the beginning of the game, players will pick their "lucky envelope" out of the 26 envelopes on the screen - these values will be split into lines of 6-7-7-6, and after players have chosen their envelope, the remaining envelopes will be placed into a 5x5 grid. All values will be divided into 13 yellow values and 13 green values. 25 values will be in the envelopes on screen and one will be in your envelope in the corner. If you remove five lines from the reels, you will begin to unlock multipliers. These multipliers are:
Five - 2x: Five lines will double all totals. If you land five lines on the card, you will notice all yellow and green totals have been doubled.
Six - 3x: Six lines will treble the winning totals.
Seven - 4x: Removing Seven lines from the card will quadruple all wins.
Eight - 5x: Removing Eight lines on the card will multiply all original totals by 5x.
Nine - 6x: Landing Nine lines on the card will multiply all original totals by 6x.
Ten - 7x: Landing Ten lines on the card will multiply all original totals by 7x.
Full House - 20x: If you replace all envelopes with golden stars, you will receive a multiplier of up to 20x.
How to Play Slingo Fortunes
How to set your stake
Click on the - or the + button at the bottom left of the screen to alternate your stake, if you change your stake you will notice that the 26 values will also change.
How to spin
After setting your stake, you can click the 'start game' button to begin your spins. Any values that land on the reel will be automatically turned into a star symbol.
The Boss Believes: Slingo Fortunes review
We're big fans of Deal or No Deal here at Slot Boss, especially the Slingo rendition from Slingo Originals, so it comes as no surprise that Slingo Fortunes is equally as impressive as one of our top casino games. The small Asian themed twist that makes Slingo Fortunes unique is one that we hope to see in more casino games in the future. If you're looking for more Slingo games, why not check out Slingo Rainbow Riches and Slingo Centurion?