Unfortunately, we are not available in your area!
You are visiting a version of our website that is outside of your region.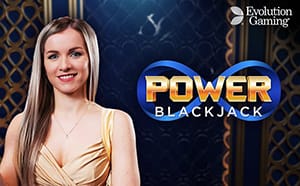 Power Blackjack
About Power Blackjack
We usually refer to Slot Boss as the home of slots; however, thanks to Evolution Gaming we've also had the opportunity to bring some of our favourite Live Casino Games directly to our players. Evolution have created many variants of Roulette and Blackjack but we believe that Power Blackjack has the potential to be the most popular [online Blackjack](/games/european-blackjack-microgaming game on site. However, this isn't a typical Blackjack game, there are a lot of variables that will force players to change the way they think and play Blackjack, as some of the changes render standard Blackjack strategy guides useless.
What is different in Power Blackjack?
9's and 10's removed from decks
Do not fret, players can still land Kings, Queens and Jacks, but the number cards of 9 and 10 have been completely removed. This means that the 8 deck shoe contains 64 fewer cards than what you would find in our regular Blackjack games, so if you're playing this game using basic Blackjack strategies, you will falter. However, you will be able to find a full guide in the Slot Boss blog, and we'll throw in five tips at the bottom of this page for players to follow.
Triple or Quadruple Down
A feature that you won't find in any other Blackjack game is the option to Triple or Quadruple down. If you're a regular Blackjack player, you will know how to Double Down. Tripling or Quadrupling down is virtually the same just with higher values. It is similar to that of Ultimate Texas Hold'Em.
Side Bets
There are four side bets that players can utilise in Power Blackjack, they are:
21 + 3 examines the three upcards after all four have been dealt. If the three cards form a flush, straight or three of a kind, this bet wins. Any pair will pay out if the player receives a pair as their two cards. With the removal of 9 and 10 cards, the odds of this are increased compared to the standard game. Hot 3's pays out if the three upcards on the table after four have been dealt tally up to 19, 20 or 21. The hot 3 itself is 7-7-7. Bust It bets on whether the dealer will go bust or not when they draw their third card. If they do, the player wins.
What the Developers said
"With this game, the mission was to give players more of what they love about Blackjack without changing the underlying gameplay. We know that players love classic Blackjack, but we are always looking for new ways to keep it fresh. Creating a version where players can triple and quadruple down, instead of just double down, felt like a great way to do this." - Todd Haushalter (Chief Product Officer at Evolution Gaming)
Power Blackjack Tips
Never split 5's or 10's, always split 8's. Unless the dealer has ten, always quadruple down on a hard 11. Always stand on a hard 17 or higher. Unless the dealer has ten, always split 6's. Unless the dealer has ten or higher, always quadruple down on a pair of 5's.