Unfortunately, we are not available in your area!
You are visiting a version of our website that is outside of your region.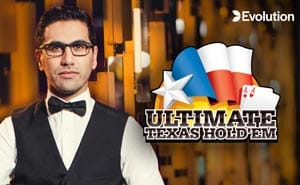 Live Ultimate Texas Hold'em
How To Play Ultimate Texas Hold'em
Texas Hold'em is a variation of five card stud normally played against both the house and the other players at the table. To facilitate online play, the designers behind Ultimate Texas Hold'em have removed other players from the equation. While there might be a dozen players in a single room simultaneously, each of them is competing only against the house.
Ultimate Texas Hold'em pits you against the dealer in a head-to-head competition to see who can build the best five card hand. Live streaming video connects you and your dealer while computer-generated controls make it possible for you to place your wagers during each and every hand. You will see the necessary graphics overlaid at the bottom of your screen.
You can interact with your dealer during gameplay by utilising the chat tool built-in to the software. But make sure your sound is on because your dealer may respond by speaking to you. That is one of the great things about playing Ultimate Texas Hold'em live. You can engage with your dealer as much as you want to.
Note that some of the rules of traditional Texas Hold'em had to be modified to accommodate a live, one-on-one game against the house. But no worries; all of the basics remain intact. If you are familiar with Texas Hold'em in a land-based casino, you'll adapt very quickly to the live online game.
Ultimate Texas Hold'em Rules
The start of each hand requires the player to place an ante and blind bet. The dealer and player are then both dealt two cards each. That is followed by a round of betting and what is known as the 'flop'. The flop involves dealing the first three community cards. This is followed by two more rounds of betting and the fourth (Turn) and fifth (River) cards being dealt.
If you understand the rules of Texas Hold'em, you understand that with each round of betting the player can choose to check, bet, raise, or fold. A straight play bet is equal to the ante in Ultimate Texas Hold'em. In order to raise, the player must first make a straight play bet.
Once all of the betting and dealing has concluded, the dealer's two cards are revealed. The higher-ranked hand wins. However, the dealer must have at least a pair to qualify. If not, you automatically win the hand. Chips and cards are cleared from the table and the process starts all over again.
The limits inherent to playing Texas Hold'em exclusively against the house is what makes the modified betting structure necessary. The end result of that structure is a somewhat limited ability for you to wager. In other words, you cannot raise multiple times between the three deals. If you raise after the flop for example, the house is compelled to call. That facilitates the Turn without giving you another opportunity to raise again.
If this sounds a bit confusing, don't worry. You'll get used to the betting structure after a couple of hands. It is actually a lot simpler than traditional Texas Hold'em, a game that allows virtually unlimited betting.
Ultimate Texas Hold'em Bonus Features Explained
In terms of extra features, there is one particular feature in Ultimate Texas Hold'em that many players appreciate. It is a side bet known as the Trips Bonus Bet. You make it before the cards are dealt. The Trips Bonus Bet says you will be able to form three of a kind or better using your two cards and any three of the community cards.
The great thing about the Trips Bonus Bet is that it is not influenced by the eventual outcome of your hand against the dealer's. Win or lose that hand, you still win the side bet if you hit three of a kind or better. This adds a little bit extra as well as increasing your chances of coming away a winner.
Texas Hold'em is one of the most popular variations of poker being played right now. Thanks to an awful lot of media coverage, it seems like everyone is playing. That's good. We invite you to play Ultimate Texas Hold'em here in our casino. It is an exceptional form of Texas Hold'em played against the house at a fairly brisk pace.