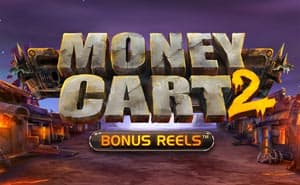 Money Cart 2
About Money Cart 2
Money Cart 2 video slot has an intuitive interface and impressive designs. Aside from that, the gaming atmosphere of the video slot perfectly matches the theme of the game. A guitar sound is playing in the background while the reels play mechanical sounds. When the bonus symbols appear on the reels, bullets will fly around. In addition, there are nine special symbols and several bonus symbols in the game. Symbols display a coin value, which triggers a property. Collector, Payer, Necromancer, Collector/Payer, Persistent Player, Reset Plus, Persistent Collector, Sniper, and Persistent Sniper are examples of these symbols. All positions are filled or the spin runs out at the end of this unique round.
How to Play Money Cart 2
Set Your Stake
Setting your stake is an essential part of this slot. You can set your stake on any amount ranging from 20p to £200 a spin. To do this, you'll click on the coin icon that can be found on the top right-hand side of the slot. Once this is done, you must choose your bet amount and start playing the game. Money Cart 2 can be played on all devices.
How to Spin the Reels
Spin the reels by pressing the appropriate button on the control panel situated to the right of the reels. The reels will spin and the windows under the playing field will update, these fields include your balance, the size of your bet as well as the number of wins on the current spin.
Money Cart 2 Bonus Features
Money Cart 2 has excellent bonus features that make this slot unique and enjoyable for players from all over.
Money Cart 2 re-spin Bonus
Money Cart 2 has an excellent streak re-spin bonus that makes players return for more. You'll be able to spot some unique characters that appear during your gameplay, and some of these will have some special modifiers tied to them to get the ball rolling. Triggering the re-spin feature is pretty straightforward. All you have to do is land on three bonus symbols on any of the reels during your spin, and you'll get the reward of three re-spins.
Additional Features
Other features to keep your eyes out for are the symbols that will appear during your game of Money Cart 2. In Money Cart 2 these are theGolden Bonus Symbols which include the payer, the collector, sniper, necromancer and reset plus. Each of these symbols has special modifiers that will help enhance your gameplay to its fullest potential.