Unfortunately, we are not available in your area!
You are visiting a version of our website that is outside of your region.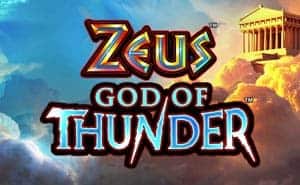 Zeus God of Thunder
About Zeus God of Thunder
With a stunning flash of lightning, Zeus God of Thunder entices players to wager and attempt to win enormous prizes with high-paying bonus wheels. This online slot has a simple appearance and varies from traditional bonus features.
The slot graphics have a greek theme, and the dark red reels stand out well against the storm in the background. The bright colour makes it easy to see the symbols in each slot. There is a lot going on in this game, but the design keeps the different elements separate and organised.
Zeus God of Thunder: How to Play
Below you'll learn how to set your stake and spin the reels in this online slot.
How To Set Your Stake
This game includes a 5x4 reel setup with 30 pay lines. Each spin needs wagering at least 30 bets. The line bet automatically increases by 20x after selecting a feature. If you want higher bonus wheels payouts, you may double your initial wager to 45x the line bet.
In this game, you can win money by matching three symbols on a pay line. If you match three symbols, your prize will be the lowest. The game also has wild figures that may be any symbol other than the bonus effect.
Only four symbols on the reels have a chance to transform into wilds. The award is doubled if a random symbol appears on a winning pay line. It's worth noting that the multiplier can't be more than 2x.
How To Spin the Reels
To win a spin on the wheel, you need to get three, four or five background images to appear on adjacent reels of the same row. This will give you one spin on the corresponding wheel. The wheel has a bonus round in which you have a chance to win the jackpot.
Zeus God of Thunder: Bonus Features
Bonus Wheel The bonus system for this slot is different from other slots. On some spins, the reels change to a stormy backdrop. These locations will be brightly illuminated at first, so you can see them clearly. The player will activate the bonus game if three or more of these bonus backdrop spaces line up horizontally.
The number of bonus symbols in a row determines which wheel the player triggers. So there will be different wheels depending on If there are three, four, or five scatters in a row, and the biggest prizes on offer within the bonus wheel are seen on the wheel triggered by five scatters.
Zeus God of Thunder: Review
The Zeus series is one of the most popular games at our casino. This latest version may be the best yet. The bonus wheels in this game add a touch of unpredictability to the game—you never know what your prize will be.
You can feel confident that the prize will be wonderful, whether with wilds, free spins, or jackpots.
Other Games at Slot Boss
Other games you may like in our collection include Legion X Tombstone, and Book of Merlin.