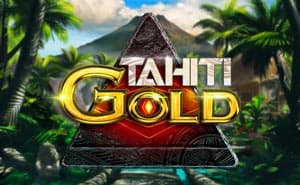 Tahiti Gold
About Tahiti Gold
Tahiti Gold was the first ELK Studios slot released on Slot Boss, and if you decide to play it, you'll realise exactly why we chose this slot as our first release from the popular brand. Tahiti Gold resembles our Megaways games as it contains up to 262,144 ways to win, cascading reels (Avalanches) and the Free Spins (Free Drops) feature, but a massive difference is that there are multiple bonus features with the Sticky Wilds, Wild Forge and Eye of Tiki features being particular favourites of our players. Graphically, Tahiti Gold is one of the most impressive games we've seen in a long time with the setting of an island in the Pacific Ocean. There are two Tiki totems either side of the grid with the 4x6 reels potentially expanding to 8x6 with an extra row added with every win alongside the Big Symbols feature where up to 4x4 symbols can fall on the reels.
The best feature in this slot is the Free Drops bonus where landing between 3 and 6 scatter symbols will give you somewhere between 10 and 25 Free Spins. The feature can be re-triggered during the round and begins with four rows, each win will increase the number of rows by one. Four wins will take you up to the maximum number of rows and a maximum 262,144 ways to win.
Tahiti Gold: Best Features
1. - The Theme: The island theme is particularly fantastic here. We're very impressed by the graphics on show and the transition into the new format during the Free Drops bonus feature.
2. - Bonus Features: This slot has a plethora of bonus features available which provide players with a unique experience. Each feature has a different style which ensures that no two bonus games are the same.
Slots Like Tahiti Gold
1. - Pirates Frenzy: With up to 50 Free Spins available in Pirates Frenzy this slot has a tonne of winning potential.
2. - Tiki Fruits: The island theme is very popular amongst our players and the Tiki Fruits slot is one of the very best of that theme.
3. - Midas Gold: Midas Gold has one of the most unique bonus features on Slot Boss, if you're looking for the Midas Touch, you can find it in this brilliant slot.
Tahiti Gold Slot Review
Tahiti Gold is one of the most popular Island themed slots on Slot Boss due to the extensive bonus features and brilliant graphics behind the game. This is an excellent example of the quality of slot available with ELK Studios, the graphics, the gameplay, and the winning potential are all vital parts of providing a fantastic gaming experience. If you're looking for something a little different, why not try out our Live Casino where the likes of Monopoly Live and Live Dream Catcher are some of the most popular games on site.