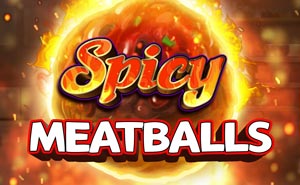 Spicy Meatballs
Spicy Meatballs Slot
Feel the heat of the kitchen with the Spicy Meatballs slot. Featuring a six by six format and the amazing Megaways mechanic, this slot has everything to spice up your experience. Get ready for the spicy environment of this restaurant's kitchen and enjoy potentially huge winnings!
By pairing the ten base game symbols with two special wilds and the free spins bonus, you may win up to 55,210x your bet. Take advantage of reaction wins and grab five of those in a row to unlock eight free spins with Meatball Multipliers.
How to Play Spicy Meatballs
Here, we'll show you everything you need to get started with Spicy Meatballs. Learn how to set your wager and spin the reels below:
Set Your Stake
As per usual, the Big Time Gaming HUD is straightforward. Players can select their bets on the "Stake" tab. By clicking the arrows, they can pick bets ranging from $0.10 to $20.00.
How to Spin the Reels
To spin the reels, just click the big "Play" button on the lower right corner of the game.
Spicy Meatballs Bonus Features
On top of its rewarding Megaways mechanic, which was developed by Big Time Gaming themselves, Spicy Meatballs offers many other perks. In total, there are four main features - Reaction Wins, Wild Hat, Wild Meatball and Free Spins. Let's take a look at how they work:
Main Bonus Round
Spicy Meatballs' main bonus round is the Free Spins feature. To trigger it, players need to win five or more reactions in a row. Doing so grants them a minimum of eight free spins. Additional spins can be won by winning over five reactions.
Every spin in the bonus round comes with a Wild Meatball - a special wild symbol that's paired with a potentially infinite multiplier. This multiplier increases for every row the symbol moves. The feature ends when no more reaction wins occur or if the symbols reach the bottom of the reel.
Four respins can be triggered by obtaining five or more reaction wins during the Free Spins feature. Every additional win grants another spin.
Spicy Meatballs: Additional Features
On top of its Free Spins feature, Spicy Meatballs has several other ways to land wins on the reels, including:
Reaction Wins
One of the game's most important mechanics is Reaction Wins. Every winning combination's symbols are removed, allowing new symbols to take its place. This feature can lead to several wins in a row and is the only way to trigger the bonus round.
Wild Hat
As the name implies, the Wild Hat is a wild symbol. It shows up the four middle reels and can substitute everything except Wild Meatball.
Wild Meatball
If you're looking to grab this slot's maximum win, the Wild Meatball is your best bet. This special symbol is contained within pots above the reels. Every spin or every reaction, a Wild Meatball can be added in the four middle reels.
Its multiplier begins with the number displayed on the pot. For every time it moves down during a reaction, it increases its count by one. The symbol is removed once it reaches the bottom of the reel or no further reactions occur.
During the Free Spins feature, once the symbol is removed, the multiplier in the pots increases with every win. Thus, it can go all the way to infinity!
Spicy Meatballs: Review
We all need some spice in our lives, and this slot is the right way to do it. Spicy Meatballs comes an amazing maximum win and high-rewarding features. It's not everyday you see a slot with winnings upwards of 55,000x!
Despite not having a Scatter symbol to trigger free spins, Spicy Meatballs found a great way to start the game's most important bonus. By getting five reaction wins in a row, you get a chance at further prizes by activating the Free Spins feature. Talk about value!
Graphics-wise, Spicy Meatballs isn't the best out there. While the soundtrack is cheerful and inviting, the graphics seem a thing of the past. At least the animations are great, as expected from Big Time Gaming.
Overall, Spicy Meatballs is a great slot thanks to its quirky features and high payouts. If you're searching for other Big Time Gaming slots, be sure to check out Bonanza Megaways.