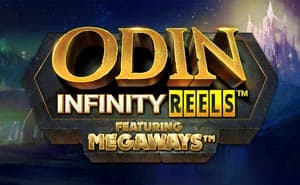 Odin Infinity Reels MEGAWAYS
About Odin Infinity Reels Megaways
Odin Infinity Reels Megaways is based on Norse mythology and as such has an epic historical fantasy element attached to it. Odin is the latest addition to Reelplay's Infinity Reels franchise. With more than 117,649 ways to win, what more could a player ask for?
This slot is a collaboration between Megaways and Reelplay. But, If the reels are infinite, when does the game end? The infinite element applies as long as you win by matching symbols with each spin. If you fail to reach the next round, the game ends, and the default set up of 3x3 returns, and you can start a new round.
When a new reel is added, the multiplier increases. The free spins bonus enhances the sticky multiplier, which comes with each winning combination. You can play one of four levels in the free spins feature.
Slot symbols include the one-eyed god Odin, his raven companions, his mighty weapon Gungnir, wolves and an eight-legged horse. The dramatic soundtrack makes the adventure more appealing. Odin Infinity Reels Megaways uses Runes symbols instead of the ordinary playing cards like most slots.
With Infinity Reels, it's possible to play with 12 or more reels, giving you 888x your stake bonus.
How to Play Odin Infinity Reels Megaways
Set Your Stake
With Odin, You can place a bet between 30p to £12. As a player, you simply select the amount you want in the given range and set it as a bet.
How to Spin the Reels
To spin the reels, press the spin button. The reels will spin and stop randomly, and the combination will determine your winnings whenever a spin results in 12 or more additional reels, a jackpot of 888x a stake.
Odin Infinity Reels Megaways Bonus Features
There are three main bonus features with Odin Infinity Reels Megaways and an additional two innovative game mechanics.
Symbol Multiplier feature
When you form a winning combination, the number of reels is increased by one. The symbol multiplier feature applies, starting with 1x the multiplier and increasing with one when a new reel is added. The infinite element of the slot means there is theoretically no limit on how high the multiplier can go.
Jackpot feature
You have to get 12 reels or more with consecutive wins to unlock the jackpot feature. This simply pays out 888x your stake, including other wins accrued in the process. This might sound easy, but 12 reels rarely occur statistically; they happen once every 63,323 spins.
Free Spins feature
Five Gungnir symbols activate the Odin Infinity Reels Megaways slot Free Spins feature. Be on the lookout for Odin's spear and Gungnir since any of the two trigger the free spins.
When the free spins start, you will be presented with two wheels. The first wheel will award you one of the four free spins levels, while the second wheel awards you 8,10 or 12 free spins.
Unlock Infinite Ways to Win
With Odin, you stand to unlock 1,000,000,000 ways to win, or more as there is an infinite number of ways to win, you may take on the next round of gameplay that exceeds 1,000,000,000 ways! The mechanism works by placing two to five symbols on each reel, giving a start of between 8 to 25 ways. The Infinity Reels start to work when you land a win, adding a single reel on the right side. If the new reel adds a win, another reel appears.
This continues until a multiplier boosts the value of the combo. Then eventually, the 12 reels will get you the 888x your stake bonus.
Odin Infinity Reels Megaways: Review
Reelplay's decision to combine their in-house Infinity Reels with Megaways helps this slot stand out. The betting limits make the game suitable for all players, whether casual or high rollers.
Reelplay also has other Norse themed games with infinite reels, such as Eldorado Infinity Reels and Thor Infinity Reels. Reelplay also provides games that can be played on mobile and desktop, making them accessible on the go.