Unfortunately, we are not available in your area!
You are visiting a version of our website that is outside of your region.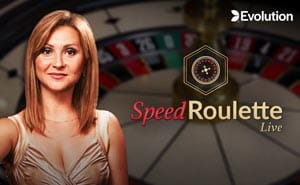 Live Speed Roulette
Speed Roulette Game Information
Speed Roulette still retains the richness of playing in a Live Casino from your armchair. It has a custom made roulette wheel and excellent live dealers to guide you through your game. It means you place your bets during the rotation of the wheel, meaning there's no 'dead time' between bets.
How To Play Speed Roulette
Just like with Live Roulette you are able to select a chip size and place your bet. Choose either an outside bet or an inside bet. Your inside bets mean that there is more chance of you landing a win and therefore the odds are less in your favour. Place an outside bet, which is better odds but harder to land. Once the ball drops your account will be funded or taken for the wager.