Unfortunately, we are not available in your area!
You are visiting a version of our website that is outside of your region.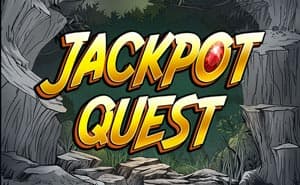 Jackpot Quest
About Jackpot Quest
Join our hero on his quest of rags to riches, in this intriguing comic book style adventure. Win respins are the game's stand-out feature and is visually appealing on the reels. Jackpot Quest has a minimum bet of 0.10p and a maximum bet of £100 while the Ruby Talisman symbol allows players to progress to the more significant features of the game where players will benefit from one of four randomly chosen modifiers. If players eventually progress and successfully claim the temple's hidden treasure, they could potentially win up to 1000x their stake. However, to do this, players will need to make the most of their win respins and stack their wins.
The story behind the game is that of your classic story in a long-lost temple. In terms of telling that story, Jackpot Quest's classy design work is enough to set it apart from its competitors, that being said, the gameplay is unique in its style and there is a long list of features which provide variety and constant entertainment.
How to Play Jackpot Quest
Set your stake and spin
Once the player has enjoyed the game's classy introduction they will arrive at the main page, the game's features are positioned around the slot. To set your stake and spin, everything you need is situated at the bottom of the slot. You will find the stake feature to your left and the spin feature to your right. To set your stake press the - and + buttons either side of your stake to change between our 15 options.
Other features
We recommend that you check out some of the features on the top section of the slot before playing, here are some of the features you can find in the top right of this online slot. You can turn off the sound - which we never recommend if you are looking for the ultimate experience, change the game to full screen - which we do recommend for the ultimate experience but perhaps, more importantly, you can find the game's rules and paylines positioned above the full-screen button.
Jackpot Quest Bonus features
Super Symbols
When players spin, higher paying symbols may combine into squares ranging between 2x2 to 6x6, when this happens players will receive a free respin and have a better chance of winning larger prizes.
When a player spins, they may find that some of the game's higher paying symbols appear in a square ranging from 2x2 to 6x6, when this happens players will notice the symbols implode and combine in order to give them a better chance of winning larger amounts in their re-spins.
The Ruby Talisman
When there is at least one Super Symbol and the Ruby Talisman on the reels, the player will have activated a special feature. Ruby Talismans can appear during any spin and more than one can appear during a single spin. Each Talisman will activate one Super Symbol and create new regular symbols of the same picture type. If the player is in luck and the Ruby Talisman selects the Golden Slot Super Symbol which turns all high-paying picture symbols into Golden Slot symbols.
The Boss Believes
Defeating dangerous animals and securing hidden treasures from temples? Typical Sunday morning for the Boss. Or at least, it will be from now on. Many members of the Slot Boss family grew up adoring these kinds of films such as Indiana Jones even more. Mind, we still don't understand how Indi survived that Nuclear Bomb by standing in a fridge, are we right? Sorry, bit off topic there. Back to online slots - many before have tried to perfect the classic theme and many others have tried to perfect the explorer travelling through temples and jungles aspect but I can't think of one slot in our online casino that has managed to perfect both like Red Tiger have in this fantastic game.