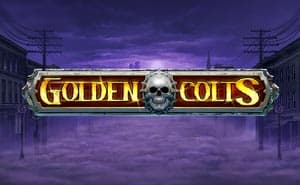 Golden Colts
About Golden Colts Slot
The Golden Colts slot is a cowboy-inspired casino game from Play'n Go. This slot is played over 5 reels and 20 paylines with bonus features, such as Free Spins, Multipliers and Mega Symbols. The Most Wanted picker bonus is the main attraction with up to 2500x your stake available.
How To Play Golden Colts Slot
Information
The information button allows you to check upon the bonus rounds, symbol values and winning combinations.
Balance
Your balance in Golden Colts slot appears in the window, which highlights the funds you have in your account.
Bet
The Bet menu is just below the reels. You can edit your stake using the (+) and (-) buttons. Increase or decrease to your chosen value.
Spin
Once you are happy with your bet value you can tap the 'Spin' button. This will set the reels in motion and begin your Golden Colts slot game.
Golden Colts Slot Bonus Rounds
In the Golden Colts slot, the bonus rounds are triggered when you land three scatter symbols on the reels. Once this has happened you will be given the cylinder of a gun, which will appear with each part offering a different bonus round. There are seven rounds available in total - you must click the screen to find out which:
Ace High Gang
This bonus round in Golden Colts slot will grant you three Free Spins with 4x4 Mega Symbols. These large symbols may appear on reels two and five during any standard spin.
Wild Bull
In this bonus you will receive three Free Spins with more wilds on the reels.
Law of the Wild
You will receive one Free Spin. Also, on reels two and four the Sheriff symbol may appear, this is the highest paying symbol in the game. Each time this symbol is landed on the specific reels a 3x3 block will be created and then re-spun.
Gunslingers
In this round you will be awarded 1 Free Spin with a random multiplier worth up to 30x is applied to your winnings.
Poker Play
During this round you will get a 2x2 symbol and then one spin will be awarded. The gamblers in this round are wild symbols and they can substitute for all except scatter symbols.
Furies
You are awarded one spin in this round, which is a 2x2 girl symbol. Non-winning combinations will then be re-spun giving a prize.
Most Wanted
In the Golden Colts slot, the Most Wanted round is one of the most valuable. You will be given 20 posters and behind each one there will either be a cash prize or a bonus feature, which you must choose from. You will continue to pick posters until you find the final one. Your cash prizes will be added to your total win with up to 2500x your stake available.
Slot Boss Suggests
Play'n Go has delivered a superb online slot here. The Most Wanted round is a picker round, which gives the player more of a chance to interact with the game. There's a range of other bonuses too and the Wild West theme is one of our favourites. Within these rounds there is a 2500x multiplier available, which is the main target of the game. If you like the theme and eerie music then Mustang Gold might be up your street. We also have a selection of other Play'n Go games too.