Unfortunately, we are not available in your area!
You are visiting a version of our website that is outside of your region.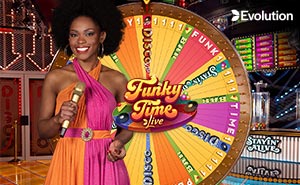 Funky Time
Funky Time Live Overview
Funky Time Live is a game show-inspired live casino offering from Evolution Gaming, packed with bonus features and multipliers of up to 10,000x. Where this title excels (aside from the obvious impressiveness of its payout potential) is in its uniqueness, with a groovy disco theme to enjoy as you spin in search of prizes galore.
Funky Time Live Facts
Game Developer: Evolution Gaming
Genre/Theme: Live Casino, Disco
Bonus Features: Bar, Stayin'n Alive, Disco, and VIP Disco
Maximum Multiplier: 10,000x
How to Play Funky Time Live
Stakes & Bets
Betting on Funky Time Live is incredibly easy; simply select your preferred bet value and choose the area(s) you want to bet on. The aim is to correctly guess where the arrow will land - whether that's a particular letter or number or one of the four bonus rounds.
Start Playing
Once you've set your bet, the presenter will take over, and a wheel spin will commence, with the arrow ultimately landing on one of the many segments. If this matches up with your bet, you'll win - and you get access to any bonus features that the arrow lands on!
Funky Time Live Bonus Features
Bar
Enter the Bar bonus feature when the arrow lands on one of the Bar sections of the wheel. You'll move into a new area for this unique feature, with a quirky robot character serving up a few mystery multiplier prizes of up to 20x. The aim of the game here is to simply guess which of the three glasses will hold the biggest multiplier prize. Once you've made your guess, the robotic bartender will add a garnish multiplier to one of the glasses for an even more impressive value.
Stayin' Alive
Stayin' Alive is a groovy bonus feature that revolves around a ball-drawing machine with 90 balls and a multiplier ladder for you to work your way up towards bigger and better payouts. At the start of the round, you'll need to pick a colour (green, purple, or orange). If the presenter draws a ball that matches your chosen colour, you'll ascend the multiplier ladder. There are unique ball types that could also be drawn from the machine, as follows:
Stop Ball: All players lose a life, but their level remains the same
1-Step Ball: If the ball matches your chosen colour, you move up one position on the ladder
2-Step Ball: If the ball matches your chosen colour, you move up two positions on the ladder
Disco & VIP Disco
Disco is the standard version of this bonus feature, triggered by landing on one of the Disco segments of the wheel, whereas VIP Disco, the upgraded version, is triggered by landing on the VIP Disco segment. Regardless of which feature you enter, you'll be taken to a groovy dancefloor, where the direction of the dancer will be determined by a spin of a mini wheel. The VIP offering provides a larger dancefloor of 63 squares vs the standard 37 squares. In Disco and its VIP upgrade, you can expect plenty of multipliers - both regular and 'floor' ones which double the value of five regular multipliers. If the dancer enters a square with a multiplier on it, it will be collected. The feature ends when the dancer falls off the dancefloor.
In total, you can win up to 10,000x your bet in this feature.
Funky Time Live FAQs
What is the maximum win in Funky Time?
Win up to 10,000x your bet in Funky Time, a figure that is made possible thanks to the generous VIP Disco bonus feature, complete with a dancefloor filled with powerful upgradeable multipliers.
What games are similar to Funky Time?
If you like the type of gameplay on offer in Funky Time Live, we'd recommend trying out Crazy Time Live, which offers more of a circus theme but is still packed with multipliers up to 10,000x, much like Funky Time's payout offering.