Unfortunately, we are not available in your area!
You are visiting a version of our website that is outside of your region.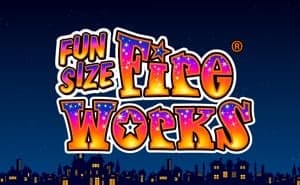 Fun Size Fireworks
About Funsize Fireworks
There's just something about Fireworks that we absolutely adore here at Slot Boss and believe it or not, we're also very passionate about slot games so when we saw that Realistic Gaming were releasing a Funsize Fireworks slot, it's safe to say we got a little excited and thankfully, we were not disappointed by what we have played. The slot takes up a classic theme and gives an authentic slot machine vibe. In fact, the only thing missing from the ultimate land casino experience is a giant spin button on your mobile or laptop or a lever at the side of your device. This Realistic Gaming bonanza contains 3x3 slots reels with five fixed pay lines for players to land winning combinations.
Before you get your sparklers out and light those fireworks, we'd like to show you exactly why Funsize Fireworks is more than just your typical classic slot. Online slots that offer colourful visuals sometimes lack in the fantastic gameplay department, however, in our opinion the Fireworks feature alone is enough to ensure that Funsize Fireworks takes a place as one of our favourite releases to date. In this feature, the slot will select one reel at random and the others will land with one, two or three of the symbols on the selected reel.
How to Play Funsize Fireworks
How to Change Camera Angle
Once you enter the Funsize Fireworks slot, you may be confused by the original camera angle which places players away from the slot machine which is a rarity in casino games. However, players can use the two different options in the top right corner to change their view of the slot.
How to Set Your Stake
As for how to play this slot, everything the player needs is in the two buttons on the left and right sides of the screen. To set their stake players must click on the smaller button then select the bet option on the bar at the top of the screen. Once selected players can choose a stake ranging between £0.20 and £100. Players can also utilise the bar at the top of the screen to view their paytable, the game rules or an infosheet.
How to Spin
Once players have selected their stake, they will be returned to the slot, players should press the larger button to begin their spins. There is also an autoplay feature that players can use to speed up their spins.
Autoplay
Players should press the smaller button to open the autoplay screen, where players can select a set number of spins to play with ranging from 10 to 100, a maximum loss which will vary depending on the number of spins and their bet. Players can also choose to stop the game if they win a certain amount or higher.
Funsize Fireworks - Bonus Feature
Fireworks Feature
Strangely enough, this slot doesn't contain any wild or bonus symbols. However, this is because of the Fireworks Feature. If players land the Fireworks symbols on the reels in a payline then the explosions underneath will light up and if all three light up, the feature will be activated. Once activated, one of the reels will be randomly selected and the other reels will spin to land with the same symbols of the said reel.
The Boss Believes
When we hear fireworks outside our windows, we think of this Realistic Gaming slot, the Funsize Fireworks slot is one that in our opinion is one of the better slot machine style slots on Slot Boss. It's rare that a classic themed slot actually works and stands-up when compared to modern-day slots that sometimes rely heavily on fine-tuned animated graphics. However, Funsize Fireworks does exactly that. If you're looking for something a little different then we recommend checking out our Jackpot King slots such as the Top Cat slot and The Pig Wizard.