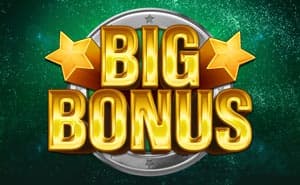 Big Bonus
Big Bonus slot
Looking for a classic retro slot machine with a dynamic twist? Look no further than Inspired Gaming's Big Bonus slot which contains all the features you would expect from a land casino game and combines it with fresh new online casino bonuses such as the Free Spins bonus round, sticky wilds and much more! Can you win 100x your stake on a single Big Bonus spin?
About Big Bonus
Big Bonus is a slot game from Inspired Gaming with classic fruit symbols. There's a chance of spinning for free and winning up to 100 times the original bet! The goal of the bonus is to keep spinning and winning money until reaching or exceeding the Big Bonus Win Value. This slot has fruit symbols across all six reels, with 50 paylines.
The graphics and sounds in Big Bonus are top-notch, making it one of the most immersive slot games out there. For beginners or experienced players, there's a chance of spinning the reels and winning big with this game.
How to Play Big Bonus
The game's objective is to spin the wheel until reaching the Big Bonus Win Value. Here's how to establish the stake and spin the reels.
For each successful combination, there's a payout of only the top prize. Awards from several lines contribute to a total payout. Big Bonus is a simple slot to play and win, even for novices.
How to Spin the Reels
The online slot's gameplay takes place on a grid with six reels and four rows. There's a display of different control functions on the sides of the grid. Personalising the gaming sessions is possible by changing the bet, setting and spin functions.
Big Bonus Bonus Features
Free spins
This is the most outstanding feature of the slot. It activates when landing no fewer than three scatter symbols across the reels. The number of free spins you can get depends on how many scatters triggered the round. There's a potential to receive an unlimited number of free spins!
The complimentary spins will pay out at the 20 times, 25 times, 30 times, 50 times, and 100 times multipliers. These are the levels for paying out the free spins. A win that equals or exceeds the amount selected ends the round, and gives you a payout. If any wilds appear during this period, they will stay in place.
Spin chance
If the player's balance drops below the prevailing play price, a Spin Chance function activates automatically. This is beneficial to players who bet their remaining balance to obtain an additional spin with their current stake.
Using the function requires selecting "Play" from the drop-down menu and moving the pointer to the gauge. If the pointer comes to a halt on the green part, you'll receive a spin on your current wager; if it stops in the red section, you'll lose.
Related Games