Unfortunately, we are not available in your area!
You are visiting a version of our website that is outside of your region.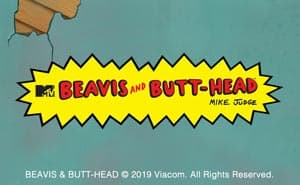 Beavis and Butthead
About Beavis and Butthead Slot
Here at Slot Boss we offer our players lots of slot games, but we now want you to go on a nostalgia trip in the Beavis and Butthead slot. This Blueprint Gaming slot has the impressive attention to detail of the original show including the protagonists watching TV.
On your reels you will find classic characters such as the Hippie Teacher, Principal and Beavis and Butthead themselves. These feature as high paying symbols whilst lower paying symbols come in the form of A, K, Q and J's. The reels are set in Beavis and Butthead's TV but keep an eye out for them sneering or changing the channel as this will award bonus multipliers or features. Keep an eye out for the Beavis and Butthead signature laugh because this means one of the games eight bonus modifiers will come into play.
This slot offers our players a top prize of 10000x stake, so even if you weren't a Beavis and Butthead fan you might want to try and land this. If you were a fan of the 90s cartoon then you'll appreciate the impeccable job that Blueprint have done capturing the originality of the source material. Every bonus and feature is based on clips from the show which adds to the authenticity of this slot and you can really tell how much effort Blueprint have put in.
How to Play Beavis and Butthead Slot Game
Stake
The stake here is set through the arrows found on the right hand side of the screen. The arrows will increase or decrease the stake per spin. Ensure that you have your desired stake set before pressing the win button.
Spin
When you are ready to send the two deviants into action the play button will send the TV into action. This green button can be seen built into the television set that Beavis and Butthead are watching. Every spin will give the opportunity to activate one of the game's many features or modifiers.
Information
If you need any extra information on the Beavis and Butthead slot the button at the bottom left of the screen will tell you everything you need to know. Here you will find everything including pay tables, wilds, modifiers and bonuses.
Beavis and Butthead Slot Features
Couch Your Cash
Take your seat on the sofa between Beavis and Butthead and spin through the reels. If the pair start to snigger you may have activated one of the following Couch your Cash modifiers.
Die Fly, Die!
If this modifier activates Beavis and Butthead will whip out their fly swatters and swipe at the fly on the TV. As they hit the reels any symbol they touch will turn into a wild for potential big wins.
Cornholio Wilds
Beavis' alter ego comes to life here with Cornholio the Colossal appearing on the TV screen. He can award fully stacked Wild Reels for potential big payouts.
Colossal Couch Fishing
Keep an eye out for Butthead and his trusty fishing rod as he can catch mega symbols in the colossal couch fishing bonus! If he casts the line of his fishing rod into the TV he can find a big 3x3 reel that can increase the chances of winning massively.
So Nacho!
If Butthead gets hungry and opens his bag of nachos it can explode all over the TV set. When this happens the cheesy crisps will cover symbols and then transform. When they transform they will all turn into a set of identical symbols for more win potential.
Butt Flambe
If Beavis decides to chug a bottle of hot sauce then he may have a little accident. After the explosion across the reels his burning bum can set fire to the symbols for further winning potential!
Some Like it Hot
Beavis and Butthead just love hot sauce! Here they will dare each other to chug hot sauce. After they have necked the bottle full they will burp fire onto the reels, giving Slot Boss players a guaranteed big win!
Sofa Slugfest
If Butthead pulls out his fishing rod but catches Beavis' hair with it you'll be in for a guaranteed win. When he pulls it out he will send Beavis flying across the reels where he will knock symbols out for a winning combination.
Change the Channel
If Butthead gets bored of the reels he might grab the remote and change the channel. When he does this after a spin, the reels will re-spin to reveal a winning combination for Slot Boss players.
Beavis and Butthead Bonus Features
Six bountiful bonus features await Slot Boss players in the Beavis and Butthead slot. Each bonus features real cut scenes and clips from the original show which really adds to that nostalgia trip. If you land three or more of the Hollywood Star Symbols on the reels the duo will change the channel to show six film reels. Here you will select one of the film strips to reveal a bonus feature or a mystery win which will award a cash prize. Below you can find each feature explained.
Don't Be A Buzzkill
In this bonus round you will be taken to Coach Bradley's office alongside Beavis and Butthead. The coach wants you to pick either Beavis or Butthead which raises his kill-o-meter. When you select either of the duo you may reveal an instant cash prize or a buzzkill, that will raise the coach's temper and make him see red. If the meter hits a critical level the coach's office will implode and return you to the base game.
Customers Suck!
Customers Suck! Will transport you into Burger World, the infamous fast food chain where Beavis and Butthead work. The destructive duo will allow you to choose from four food boxes for instant prizes. Inside each box during the customers suck round will be a number of foods that have their own specific multiplier. These will then be added together for a final multiplier when the round is over. Slot Boss players will also have the chance to upgrade their bonus game to Maxi Mart Free Spins by revealing three golden burgers. Watch out for worm burgers though in Burger World as three of these will send you back to the base game.
To 'B' or not to 'B' Free Spins
Get ready to head down to the front yard where you will receive 10 free games in the free spins bonus. During the free spins bonus, Beavis or Butthead will turn wild for extra winning potential. During this bonus, you can also win extra prizes that can give further prizes. Land three Hollywood Stars for more free spins; landing six will transport you to the Just Deserts Bonus.
Maxi Mart Free Spins
The Maxi Mart Free Spins will transport you to a set of drink dispensing reels located in the famous Maxi Mart. Here you will be awarded 12 free spins with extra wilds through the Maxi Gulp feature. If you land three scatters here you will be awarded extra free spins. Six scatters will send you straight through to the Just Deserts Bonus.
The Great Cornholio Free Spins
Prepare for Beavis' wacky alter ego to return in his own free spins. In the boys school bathroom Cornholio can appear as stacked wilds across the row of toilets for extra win potential. If you land three more scatter symbols you will be awarded extra free spins whilst six will transport you to the Just Deserts Bonus.
Just Deserts Big Money Bonus
The Just Deserts Big Money Bonus will send the two mischievous teenagers into the desert. Here you will select from three animal skulls to decide how far the pair will move. Every step will award a variety of multipliers and wins that will add up for the end of the round. As Beavis and Butthead get further into the dessert, they become increasingly tired until they collapse. If the pair land on an Oasis segment you will be awarded an instant mystery prize!
Gamble
When the pair flick the TV to the bonus features and you have been awarded one, you will have the chance to gamble it for a better bonus. Here when you gamble you may be awarded a new bonus round but beware, losing a gamble means leaving empty handed.
Slot Boss Says
Blueprint Gaming have come at us again with an excellent slot packed to the brim with bonus rounds including a free spins bonus. They have captured the epic tone of the beloved duo and brought them back to life in the slot world with inclusion of watching TV and music videos.
Fans of the show will enjoy the nostalgia trip but don't worry if you've never seen the show as it's still full of bonuses and multipliers. The game really stands out with its unique and interesting bonus features and there are that many of them that the slot always remains interesting. If you're not happy with any bonus features you can always gamble it for a better one! The modifiers can activate during any spin which adds a new layer to the game. Blueprint have a history of slot TV adaptations packed with bonuses and has already created hits such as Mars Attacks and The Goonies.
Related Games