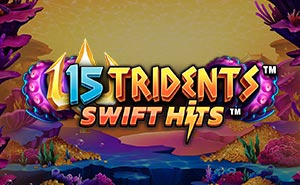 15 Tridents
About 15 Tridents
It's time to dive to the bottom of the sea in search of sunken treasure in 15 Tridents, an underwater-themed slot by Microgaming.
The first thing you'll notice when 15 Tridents loads is that there isn't one, but two sets of five reels and four rows each. It's essentially two slot games in one, both of which have 1024 ways to win. This means that, effectively, you get two chances to a get a win on each spin.
Certain features also span across both sets of reels, like the Trident Swifthits symbols, which give you an instant cash prize if you get three or more. The more symbols you get, the larger your prize will be. This also applies to the free spins scatter symbols.
The game's characters also chip in to help you win occasionally. Poseidon can appear to bless you with additional Trident symbols. Amphitrite, who in Greek mythology is the wife of Poseidon, can give you more wild symbols and upgrade multipliers, while the Sirens can also appear to give you a high-value symbol so you can complete a winning combination.
In terms of visuals, 15 Tridents is as vivid and colorful as a coral reef in full bloom, with the game's backdrop, symbols and characters are also beautifully designed.
15 Tridents Information
Provider - Microgaming
Launch date - March 2022
Type - Video slot
Reels - 5
Paylines - 1024
Free spins - Yes
Game features
Multiplier Wilds
The wilds in 15 Tridents can have a multiplier of 2x, 3x or 5x attached to them.
Swifthit Symbols
The Swifthit symbols - represented by Poseidon't golden trident - are symbols that give you an instant cash prize if you manage to get three or more of them across all 10 reels. The more symbols you get, the more you win. The amount you've won can be seen on the counter on the left-hand-side of the game. The prize goes all the way up to a massive 15,000x your bet if you manage to get 15 of them. This is where the game gets its name from.
Scatters and free spins
When you get three or more Free Spin symbols, which are the symbols with an octopus eye on them and can only appear on reels 1, 3 and 5 on either slot machine, you'll trigger the free spins round. Once the Free Spins round has been activated, each additional scatter symbol will give you an extra free spin, with 15 being the maximum you can get.
Poseidon's Favor
Poseidon, god of the sea, can appear randomly to gift you with additionional trident symbols, which give you a higher cash prize. Amphitrite's Blessing
Amphitrite, wife of Poseidon, can also appear at any point and aid you with one or more wild symbol, or to upgrade the multiplier of an existing wild. Siren's Call
Finally, one of the Sirens can randomly appear to transform any symbol into a higher-value symbol and get you a win. Symbols
The winning symbols in 15 Tridents are divided into two groups: low paying and high paying. The low-paying symbols are playing card symbols J, Q, K, A, which have been cleverly designed to resemble octopus tentacles. The high-paying symbols are the three sirens, Amphitrite and Poseidon himself.
The special symbols are the wild symbol, which also has a multiplier attached, the octopus eye free spins scatter, and the Trident Swifthits symbols.
15 Tridents Winning combinations
Even though there are technically 10 reels because the game has two slots, the wins on both reels are separate from each other. But you can have wins on both reels at the same time. Here are the symbols and the number of them you need to win: J and Q
J and Q are the lowest-paying symbols, and have the same value: 6.25x your bet for three, 8.75x for four and 12.5x for five.
K & A
The 'K' is worth 7.5x if you get three, 11.25x if you get four, and 15x if you get five.
The 'A' is worth 8.75x if you get three, 12.5x if you get four, and 18.75x if you get five. Purple Siren
Next is the purple siren. She'll reward you with 25x for three of her, 50x for four, and 100x for five. Blue siren
Like her sister, the blue siren will give you 25x your bet if you land three of her, but then the rewards increase slightly, with 56.25x for four, and 112.5 for five. Green siren
The green siren is the one you'll want to see the most. Like Purple and Blue, she'll give you 25x for three of her, but then 62.5x for four, and 125x for five.
Amphitrite
Red-headed Amphitrite is here to give you 375x your bet for three of her symbols, 125x for four, and 375x for five. Poseidon
Finally, the lord of the oceans, the highest-value symbol, will grant you with 50x your bet for three of his symbols, 187.5x for four, and 937.5x for five.