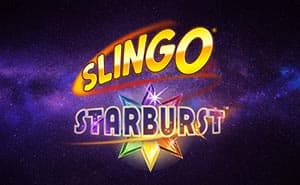 Slingo Starburst
About Slingo Starburst
With colourful animations and precious gems as the main theme, Slingo Starburst is a title that makes up for fewer paylines with lots of fast-paced action. It features ten paylines and a typical 5 x 3 reel presentation with precious stones making up most of the game's symbols.
The shape and the colour of the precious stones determine their value. You can view the paytable if you wish to know the worth of each symbol. This game is beautifully animated, with astronomical illustrations that transport you across the galaxy.
The '7' and the 'Bar' symbols are the highest payout symbols and can earn you some serious profit. These symbols have been included in the online slot game to keep a classic theme. However, the game consists of modern bonuses, giving it a beautiful mix of traditional and contemporary gameplay.
This online casino game is popular with online gamblers for a few reasons. One of the reasons is that the simplicity of the reels and the easy gameplay appeal to those who enjoy playing and winning without using too much brainpower.
Slingo Starburst has retained its focus on appealing to players, offering you high-quality gameplay and fantastic winning possibilities.
This casino game is a famous title released by gaming industry giant NetEnt. When it comes to UK online gambling, this game is one of the first names that comes to mind for frequent players. You can enjoy the Slingo Starburst slot game online on PC and mobile devices such as phones, tablets, etc.
How to play Slingo Starburst
Set your desired stakes, spin the reels, sit back and enjoy your wins.
Set Your Stakes Slingo Starburst offers glittering bonus rounds that could land you with winning combinations.
You will instantly recognise classic symbols on the meter to the side of the grid. However, watch out for the red 7's and bar symbols on the 5x5 grid display. A complete reel combination is the best way to win a fantastic payout.
You can bet a minimum of £0.10 and a maximum of £100.00. After setting the limit, you get ten spins.
At the end of the spin, winning valuable combinations make the player receives their winnings!
How to spin the Reels
You will notice a big button that says 'Spin' on the screen. Once you have finished setting your stake, you may spin the reels on the recognisable Slingo grid.
Move your way up the ladder on the left of the screen to gain Win Spins on Slingo Starburst.
Slingo Starburst Bonus Features
Like most online casino games, this game has a special bonus feature you can enjoy over and over again. The Win Spins Bonus Round
You can activate a Win Spins Bonus by landing three or more Slingo Starburst special symbols.
You can play this particular bonus mode which appears as a separate slot on the screen, where you can get a guaranteed win with a relevant symbol.
Wild symbols can trigger a respin of all other reels, depending on which symbols you managed to land.
The Win Spins is the only bonus round players can enjoy in this game. Slingo Starburst demands that you match numbers with winning combinations to unlock the bonus round.
Additional Features
The purple gems and the 7 bar are the most notable symbols. Landing three or more symbols activates prize giveaways. The biggest prize awarded to players is 2x your stake.
Slingo Starburst: Review
Slingo Starburst online slot game delivers unqiue and original online gameplay. Fantastic features such as the Win Spins feature provide excellent gaming experiences and amazing payouts for the players.
Give it a try on your PC or mobile device such as a phone or tablet. If you like treasure-themed slot games, then make sure to check out some of the best games from Slot Boss. Many games are fun and rewarding; games like 'Book of Dead' combine great graphics and storyline with an authentic gambling experience.