Unfortunately, we are not available in your area!
You are visiting a version of our website that is outside of your region.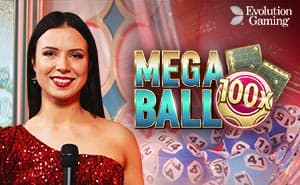 Live Mega Ball
About Mega Ball
Mega Ball is one of Evolution Gaming's greatest creations and if you're looking for a bingo-esque experience, this is without a doubt the closest you will get on Slot Boss. Why? Because we're predominantly a slots site, but that doesn't mean we don't recognise a fantastic alternative game when we see it. Despite having a similar format to bingo, this is not a bingo game, but the easily recognizable format means that our new slots players should have no problem understanding the game. This leads to the question of what makes this game different from bingo? Well, firstly you can buy up to 200 cards at the same time, but the real difference lies in the fact that there are two Mega Ball bonus rounds and massive multipliers.
The aim of the game is to get as many lines as possible, the more winning lines you possess, the more you win. The stake you buy each card at will determine the values players will receive during the game, similar to our casino games. Each set of cards will contain 5x5 cells with 24 randomly generated numbers with a free square based in the centre, as in bingo, this is already a marked square. Winning lines can be horizontal, vertical or diagonal.
How to buy Mega Ball Cards
Set the value of your cards by using the value button and these can alternate between a number of set amounts finishing up at a total of £100. Players can buy up to 200 cards. Values can be changed for each card and you can refresh your numbers by zooming in on the card and clicking the Refresh Numbers button to produce a new set of numbers.
Mega Ball: Bonus Rounds
Multipliers & The Mega Ball
When the final ball of the main game is played, one of two fantastic bonus rounds will come into play. The first round is the Mega Ball Multiplier which can provide players with fantastic multipliers ranging from 5x to 100x, if you're struggling to learn which number is which, they will be colour coordinated to aid players in their experience. Following this, a ball is then drawn from the machine to determine which number will be the game's Mega Ball. If you have the correct number and it doesn't complete a line, it will pay out as normal, but if it completes a line you will receive that number multiplied by the Mega Ball Multiplier.
The Boss Believes: Mega Ball slot review
Mega Ball is different from the majority of games on Slot Boss. If you haven't tried out Mega Ball yet, we recommend it as it is some of Evolution Gaming's best work yet. Alternatively, if the bingo-style isn't for you, stay mega with our Megaways slots where you can find some of the best slots on site.