Unfortunately, we are not available in your area!
You are visiting a version of our website that is outside of your region.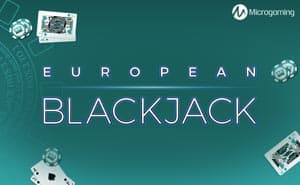 European Blackjack
How to Play European Blackjack
It is likely that you will be more commonly used to American Blackjack, however, this isn't necessarily a bad thing as the majority of the rules are exactly the same, which means the differences between these games are similar to the differences between slots. There aren't a lot of changes but understanding those differences is crucial. If you're looking to learn more about Blackjack before you play, you should check out the Slot Boss How to Play Blackjack guide which has all the latest information on the game including what to do in certain situations. Do you know how to play a soft 13? If not, check out our guides! If you've played European Roulette you may notice some familiarities with the differences between versions.
These are the five main differences between European Blackjack and American Blackjack.
There is no "hole card" in European Blackjack which simply means that the dealer does not peek at his cards for Blackjack at the start of the round.
European Blackjack plays with 2 card decks rather than 6 to 8.
Players can only double down on 9,10 or 11 in European Blackjack whilst in American Blackjack players can double down any time even after splitting.
American Blackjack is a more aggressive game whilst European allows players to be more conservative in their efforts.
When splitting in American Blackjack, you can split multiple times but during the European version of the game cards can only be split once.
These are just five of a number of changes that you can find whilst playing European Blackjack. As it is a simpler version of the game it is a favourite of our players in the United Kingdom.
How to play European Blackjack
How to set your stake
Set your stake by clicking on the different coloured chips and dragging them to your section of the table. These are the chips and their values in-game.
| Colour | Chip Value |
| --- | --- |
| Purple & White | £1 |
| Blue & White | £2 |
| Aqua & White | £5 |
| Green & White | £10 |
| Yellow & White | £20 |
| Orange & White | £25 |
| Red & White | £50 |
| Black & White | £100 |
Once you have set your stake, simply click the deal button to begin your game of Blackjack.
The Boss Believes
European Blackjack is the perfect alternative to Blackjack for our beginner players. Once you've checked out our guide and found all you need to know, why not try out this version before you progress through our casino games to our most advanced Blackjack games?